Due to the complexity of a food factory, planning, engineering, manufacturing and delivery of the projects usually take several weeks or months. In addition, the start-up and installation can also add significant time and resources to the entire process.
Snack manufacturers usually produce hundreds or thousands of kilograms per hour, therefore, a delay in start-up can cause significant financial loses. At Kuipers, to ensure efficiency, all the processing lines are delivered turnkey and fully tested in our workshop before arrival.
Our team ensures the functionality of the plant by pre-assembling and testing all of the stages as well as their overall performance. The electric control cabinets for all sections are installed on the sidebar of our mainframe, a feature specific to Kuipers technology. The mainframe contains two side bars and this design principle enables us to use their special shape as cable trays and mounting brackets for electric wiring, pneumatic air supply and piping. All internal electric wiring between the control panels and users in the plant is installed inside these side bars, which after installation and testing are closed with stainless steel covers. All cabling is safely and hygienically hidden giving it a clean and safe design. Techni­cians, however, can easily reach all systems by removing the bolted covers.
In addition, all required internal pipework for water, frying oil (fresh and used), compressed air, and more is also com­pletely installed in our workshop before shipment. This way, the plant is ready for start-up shortly after it arrives at the factory location. For transportation purposes some of the pre-assembled items are taken apart but can be easily re-installed on site. Kuipers team is also readily available to assist at all stages as well as train your factory personnel for future operations.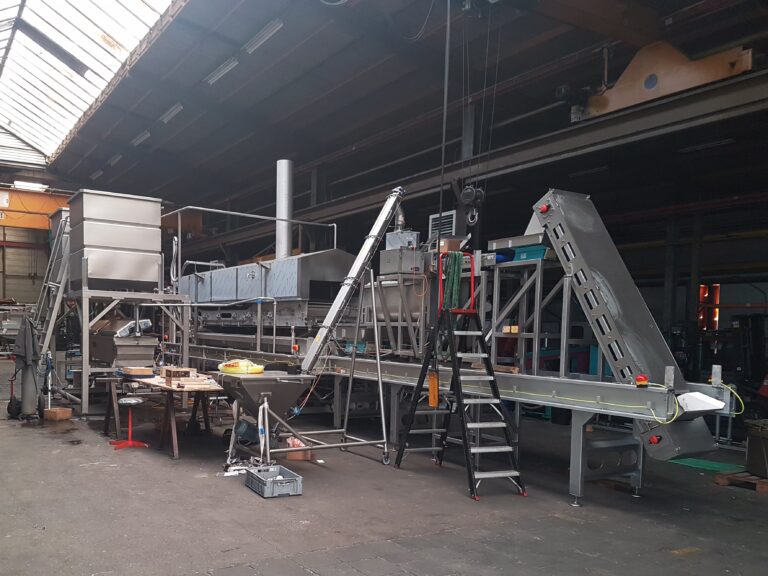 Pre-installation and testing of an onion processing plant capacity 500 kg/h (Kuipers workshop)