Business in India is not only a commercial battle but also a cultural one. Due to the huge revenue potential, the competition is tight and, for those already in the market, the fight to maintain market share is fierce. Kuipers had previously attempted to overcome this barrier, however, with very little results. Convincing the Indian customer of the quality and advances our technology offers was a slow but rewarding process. Our Lead Process Engineer, an expert of Indian origin comments on the complexity of overcoming this challenge for Kuipers. 'For traditional Western companies it is hard to understand that business in India is relationship based'' says Mr. Mander. Gaining mutual trust and having a good partner are probably the main success factors.
A good strategy is essential when entering any new market. In the case of India, the main points to consider are:
• finding the right partner
• recognizing the importance of culture and religion
• understanding the complexity of the market
• becoming familiar with the bureaucratic and legal systems
• building relationships with your stakeholders
• long-term focus
• price sensitivity
A rich culture of a thousand flavors
The Indian snack market is constantly growing. The main factors facilitating this growth include lifestyle changes, the percentage growth of the middle class, the increased urbanization levels and simply because the population has access to many more snacks than in previous years. Besides presenting us with one of the largest population on the planet, India is also rich in culture, religion and tastes. For the food processing sector, India is considered to be one of the most potent worldwide. The availability of raw inputs combined with a high local and global demand provide food processing companies as well as the local farmers many growth opportunities. Revenue in the Snack Food segment amounts to US$5,254m in 2019 and is expected to grow. Due to its diversity, India also presents manufacturers with the unique possibility to test their limits by demanding the production of special new products, some very specific to regions. The variety of Indian namkeen snacks or savory snacks is endless. Examples of these include bhujia, aloo tikkis or samosas. In addition, many nut and meat products can be also processed and enriched in taste with the great selection of Indian spices.
*The Snack Food segment includes salty and savory foods e.g. potato chips, extruded or expanded products and nuts.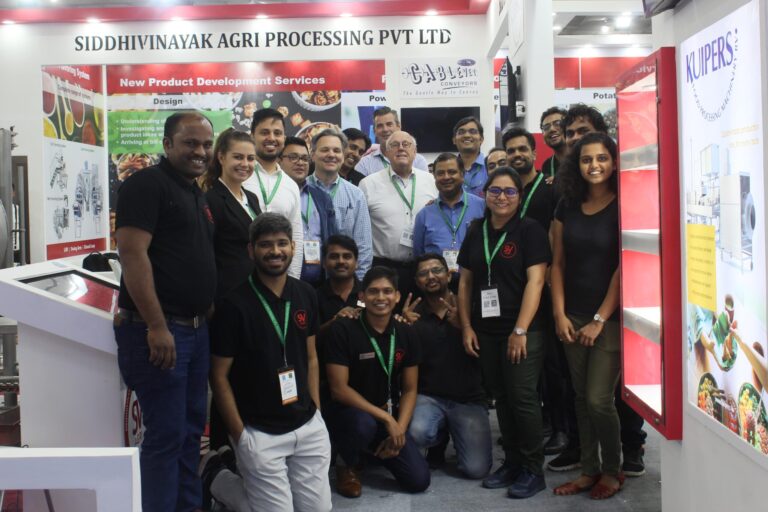 Kuipers and Siddhivinayak Agri Processing Pvt. Ltd. began initial communications at the start of the year. Previous attempts to get to the Indian customer were unsuccessful therefore we were very interested to begin collaborating with a young, dynamic team like SV Agri. Their capable and experienced team as well as the great knowledge of the local market have helped us enter the Indian market in a very short time. We are certain that this alliance will be of great value for both parties.
SV Agri – In brief The company's main goal is to create value across the food supply chain and food processing sector by blending knowledge of agriculture, food processing and technology. Founded in 2008, it has come a long way by creating better livelihood for farmers, providing reliable supply base to food manufacturers and improving efficiency of production lines. More information on SV Agri's website.
Sources: statista.com, netherlandsworldwide.nl, execed.economist.com.